Enter February and the countdown begins. Each day of the first two weeks is dedicated to a symbol or expression of love, a trail of Rose Day, Propose Day, hell even a Slap Day, until we reach the ultimate climax, the Valentine's Day. Whatever the controversial history of this day, 20th century capitalism has christened it into a day of pure, almost virgin love that quivers the core of young hearts, some of whom have barely stepped into their teens. Those days, though, are well behind me, but I recollect the faint memories of exchanging Hallmark and Archies cards with handwritten notes that were preserved for years.
Had I ever thought that our lives will be dealt on a palm size device and social media apps? No, but who's complaining. I had also never thought that Valentine's Day  would extend into thinking of our consumers, marketing campaigns, and ideas that can tap into the popular imagination. Valentine's Day campaigns are perhaps one of the biggest challenges that a brand faces. They want to reach the youth, who is open, smart, hopeful and yet the hopeless romantic. While there are a lot of brands talking love, I've tried  to compile here a  few innovative and interesting campaigns  that touched a chord.
Burger King — with or without you
Burger King is known for its cheeky digs at the expense of rival brand McDonald's.This Valentine's Day is no different with their #LonelyNoMore campaign. The brand's latest film captures  Mr Ronald McDonald, the brand's beloved clown mascot, sitting alone in different places, with sad and sombre music playing in the background. The message is clear on the screen — 'It sucks to be lonely. Especially on the Valentine's Day.'
The video ends with the brand asking users to post a selfie with the 'loneliest man in the world' and tag @BurgerKingIndia, and get a free whopper burger in return. For a free burger, who wouldn't do that.
Coca Cola — buy you a drink?
Coca Cola Australia has built on their 'Share a Coke' campaign by bringing on board Alexa, Amazon's virtual AI assistant. Consumers can get a personalized Coke with their name on the bottle delivered at their doorstep. They just have to utter the magic words — "Alexa, let's share a Coke", to any Alexa-enabled device. Coca Cola has earned a well-deserved reputation for creating hugely successful and innovative campaigns, and this campaign, too, has gained a lot of traction among consumers.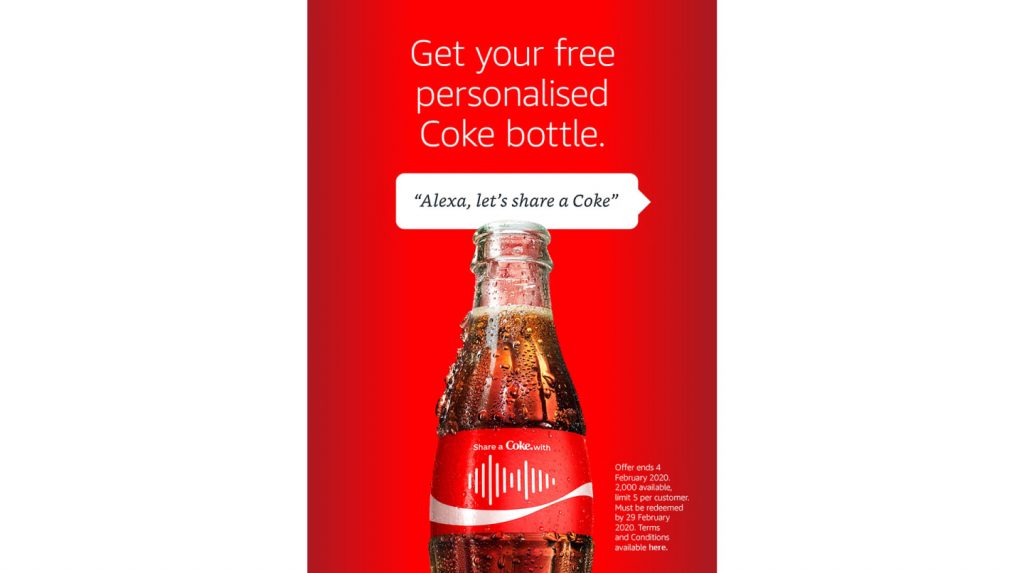 Nestlé KitKat — I box you
Nestlé KitKat has launched a Valentine's Day exclusive packaging, which when put together forms messages of love — 'Hey you Friend, Let's Be More'. 2020 is about inclusivity, and why not when it comes to Valentine's Day. Love yourself, your partner, and your friends (in that order, please) is what this decade's Valentine's is all about. So the brand doesn't want judgements attached when it comes to sharing a Kit Kat. Okay, take a break.
In its premium range, KitKat Dessert Delight, the brand has tweaked their product so that each chocolate cube in the bar has a word written on it, hoping people would them in creating their own 'Chocolov Stories'.
Mondelez — pop you heart
Be it Diwali, Rakshabandhan, or Valentine's Day, Cadbury has seized all our occasions with their targeted branding. Continuing the 'Pop Your Heart Out with Silk' campaign, they launched the campaign that asked a tough, almost existential question that some elude for life, 'How far will you go for love?' Thankfully the ad is in a surreal setting with a youthful cast, and the question is aimed at the youth who are blessingly idealistic. The popping out of heart though, drives the Valentine's Day point home better than any other product.
Pepsi — I am my love
This is the age of self-love, and being single could be sad but is no more a taboo. And some brands have taken up this cause to win over their consumers. While its arch rival, Coca Cola is talking about 'Sharing a Coke', Pepsi is riding the solo bandwagon, with its new anthem 'Swag Se Solo' featuring Bollywood star, the perennial bachelor, Salman Khan, for the 'youngistaan' of India who are single by choice.
Celebrating the spirit of individuality and singledom, the song also takes a dig at those in committed relationships and going through relationship woes. The anthem is an extension of a previously launched campaign titled #HarGhoontMaiSwag.
Britannia — break hearts, a little
Britannia's Little Hearts, being a brand for the young, is finely tuned into millennial trends. While the brand name is a reflection of budding love among the teens and young adults, their Valentine's Day campaigns over the last couple of years are based on the idea that youngsters find the day of love to be too mushy. Little Hearts tells its consumers to #BreakSomeHearts in style, through a qawwali rap. The song featuring rapper Kaam Bhaari along with actress and influencer, Ahsaas Channa, is my song for today.
**
Parul has been helping brands woo their consumers for over a decade. She's passionate about travel, loves to gorge on food, is dedicated towards pressing the snooze button, and promises herself to hit the gym every few weeks. Jump suits by day and pyjamas by night, that's how she lives her life.